This recipe for yummy [vegan] Banana Chocolate Chip Oat cookies is based on 3 Ingredient Oatmeal Chocolate Chip Cookie recipe. After reading the comments I made a few modifications.
Makes: 30 cookies
Prep Time: 10 minutes
Bake Time: 20 miutes

Ingredients:
2 c Rolled Oats
2 very ripe bananas mashed
1/4 vegan salted butter
* 1/4 salt [if using unsalted butter]
1/2 tbsp cinnamon
1 tsp vanilla extract
1/2 tsp instant coffee powder
1/2 c vegan mini semi sweet chocolate chips
Instructions:
Preheat convection oven to 375°F, with top and bottom racks on the top and bottom thirds of the oven.
Prepare 2 half baking sheets w silicone liners.
Mash bananas in a medium bowl.
Soften butter in microwave, and mix it into mashed bananas.
Add all other ingredients in and mix until well incorporated.
With a small cookie scoop (#50) [or spoon] form similar sized 30 balls, evenly spaced on prepared cookie sheets .
Flatten balls with the back of a spoon to form round flat cookies.
Bake both sheets in preheated oven. Make sure to alternate trays after 10 minutes.
Cool cookies on cooling rack. When completely cool, store in airtight container.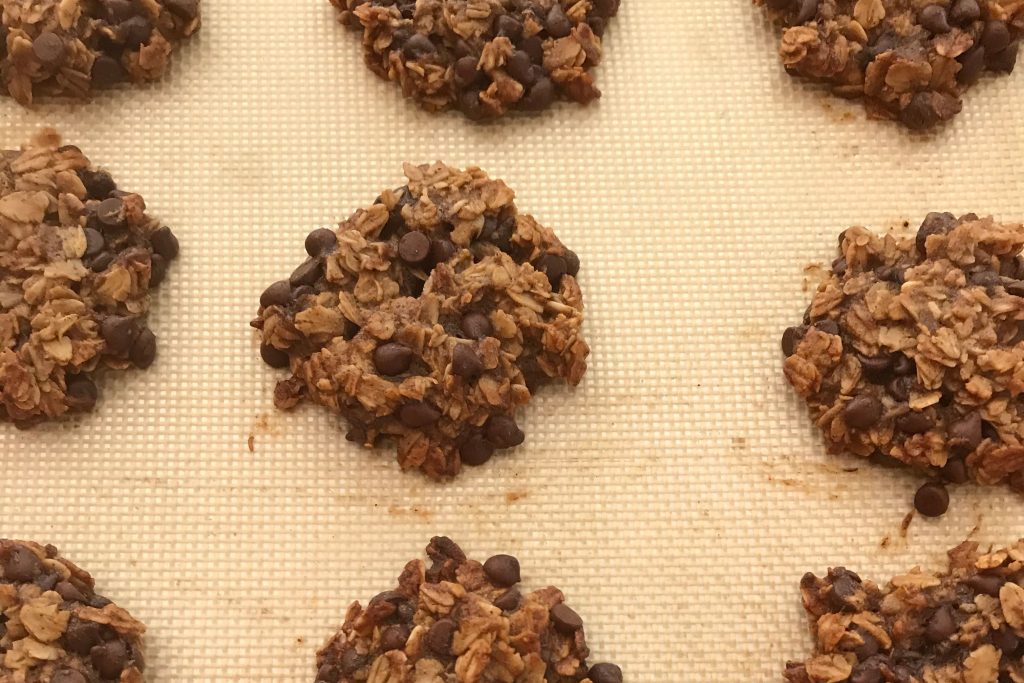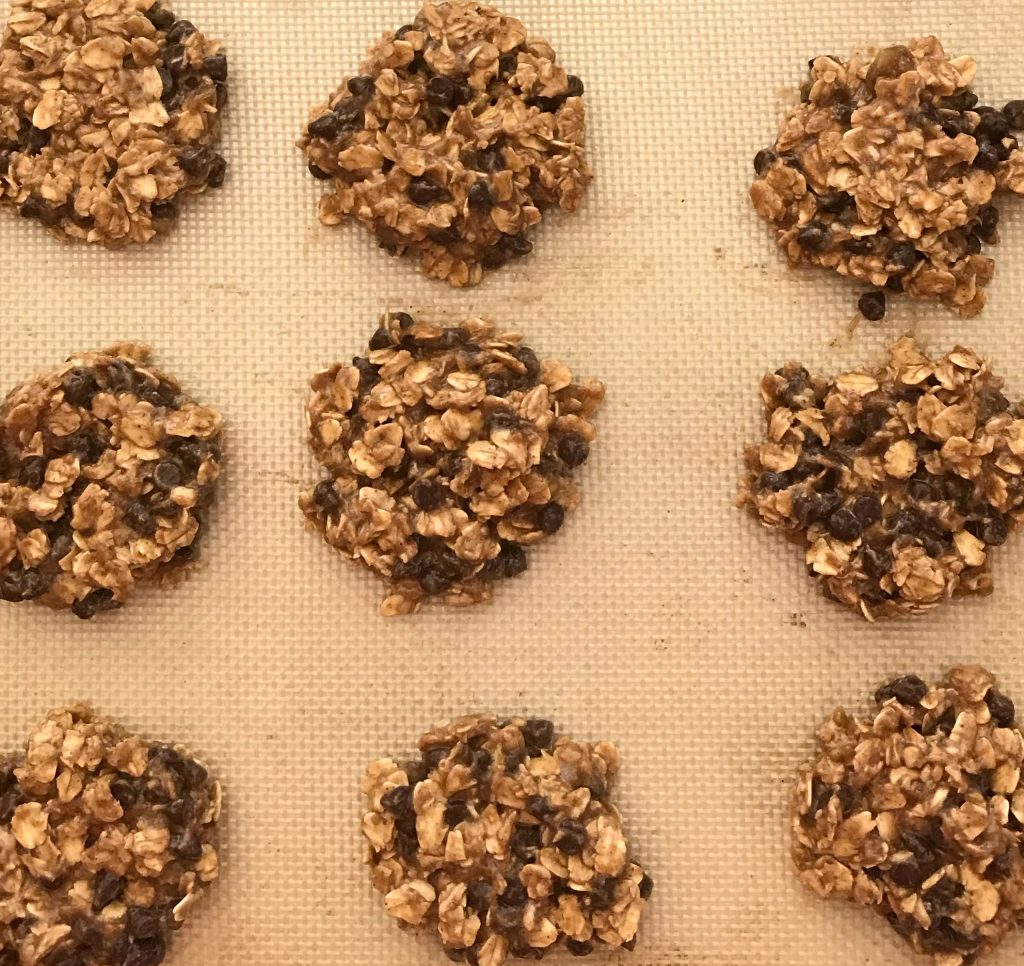 Modifications
You will notice that it is far from the basic recipe I have used.
I added sugar and vegan butter to make the cookies more crispy.
I added instant coffee to make the banana flavor less dominant.
I added cinnamon and vanilla to compliment the chocolate chips.
Comments: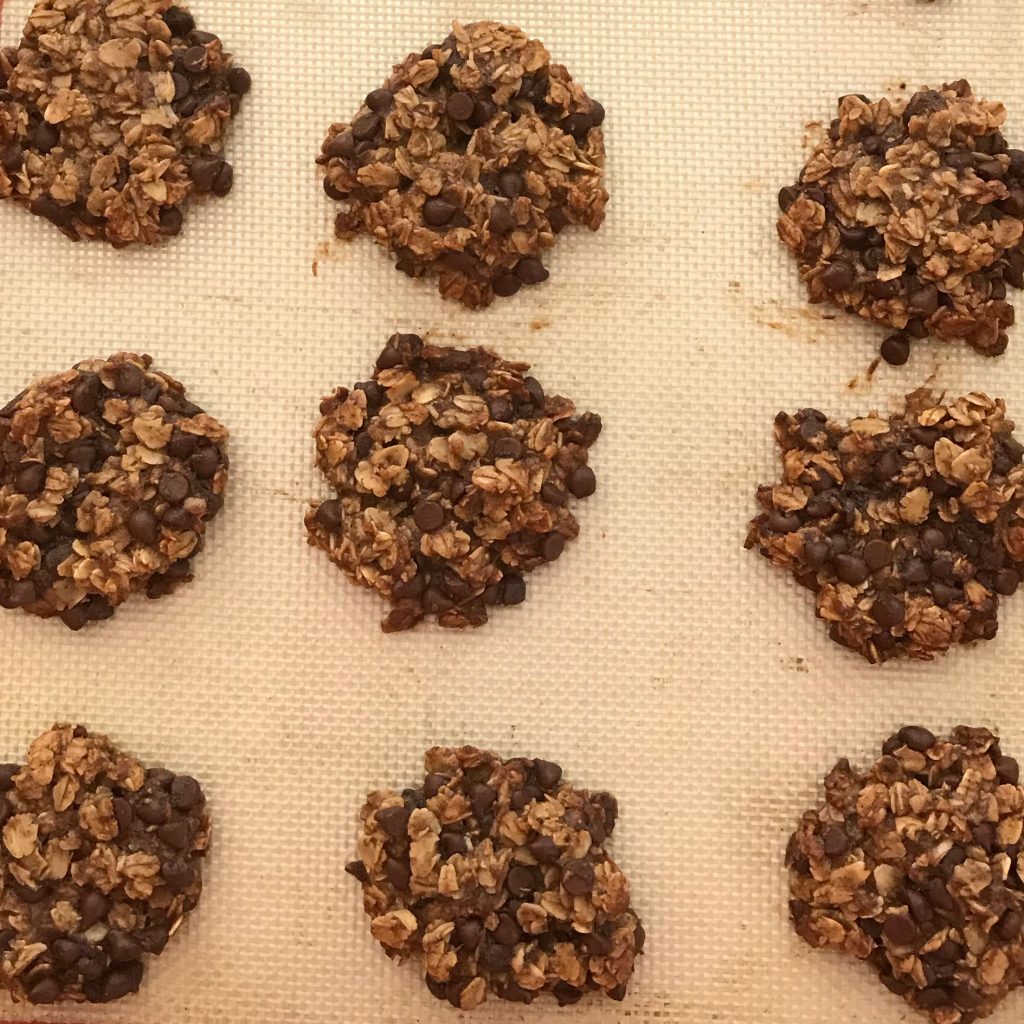 This recipe is:
vegan
gluten free
make it sugar free by omitting the sugar, and using sugar free chocolate chips or by adding nuts/dried fruits instead.